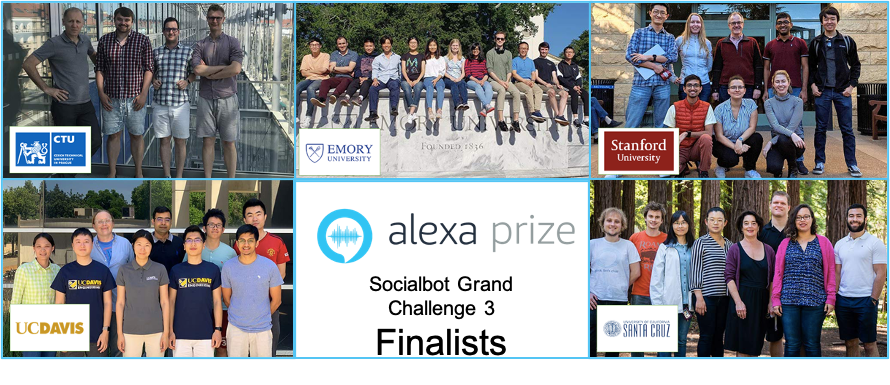 The Alexa Prize SocialBot Grand Challenge is now in its third year. And for a third time participating student teams have made exciting advances in the state-of-the-art of conversational AI. With gratitude for the efforts of all the teams this year, I am delighted to announce the five teams that are advancing to the Alexa Prize Finals.
The three socialbots with the highest average customer ratings during the semifinal period have automatically advanced: Alquist from the Czech Technical University in Prague, Emora from Emory University, and Gunrock from the University of California, Davis. We also advanced two wildcard teams this year based on evaluation criteria that included ratings from Alexa customers, depth and breadth of topics covered, appropriateness and accuracy of responses, and scientific merit as determined by the content of their technical papers: Chirpy Cardinal from Stanford University and Athena from the University of California, Santa Cruz.
In July 2019, ten university teams were selected from applications submitted by labs around the world to compete for the Alexa Prize. Since then, teams have been working tirelessly to delight customers with engaging and coherent conversations on a variety of popular topics. Now, the advancing five teams will compete for the Grand Prize. If they have a composite score of 4.0 or higher, and at least two-thirds of their Socialbot's conversations with interactors last for 20 minutes, they will win a $1 million research grant for their University.
Congratulations to Alquist, Athena, Chirpy Cardinal, Emora, and Gunrock!
On behalf of the entire Amazon Alexa organization, I want to thank all of the Alexa Prize teams for their creativity, passion, and contributions to both AI science and to delighting Alexa customers. We will be publishing the teams' technical papers in a special-edition Alexa Prize Journal later this summer, enabling all teams to share their innovative ideas with the scientific community.
In the meantime, please continue to support our finalists by chatting with their socialbots, it's as easy as saying "Alexa, let's chat" to your Alexa-enabled device. You can also follow #AlexaPrize on Twitter and bookmark our website for further updates.